The Pennsylvania Sports Hall of Fame Bucks County Chapter annual induction banquet will be held   April 19, 2018 at 6pm
at the Brookside Manor at Somerton Springs, Bustleton Ave. and County LIne Road in Feasterville, PA.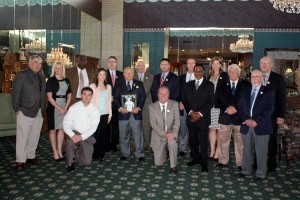 View 2017 banquet photos courtesy of David Lisowski
Banquet Tickets
To pay for banquet tickets online you may use the secure PayPal option:
Even if you pay using PAYPal, in order to arrange seating for the banquet, you must print the
Ticket Order Form and mail it to:
BCSHF
           63 Kirby Dr.
                            Morrisville, PA 19067 
Honorees sit at tables with family and friends, not at head a table. So be sure to include them in your seating arrangement.
If you do not use PayPal, enclose a check for $45 per person.
for more information on tickets, email jlarson719@aol.com
To Place an ad in the Banquet Program Click on this Link:
Program Ad examples: Family/Friends Congrats Horwatt fullpage
                                      Business:horwatt page
$150 for a full page
$100 for a half page
*Back Cover ( $300 )
*Inside Front Cover ( $ 200 )
*Inside Back Cover ($200)
Please e-mail the

ad in PDF format

to pattoner715@yahoo.com.Do not send anything to us in writing or pre-printed copy; our printer wants only PDF format.
  For more information, call John Chaump 267-994-9810